In this update:
Wisconsin Elections Hub
Upcoming Events
Campaign Finance Roundup
Governor's Race
Lieutenant Governor's Race
Post-Session Updates
U.S. Senate Race
Wisconsin Elections Hub
Ahead of Tuesday's primary election, be sure to visit our Wisconsin Elections Hub for information on all races and candidates. Visit the hub here.
Upcoming Events
Michael Best Zoo Night
Clients and friends are invited to join the Michael Best Strategies and Michael Best & Fredrich team for a night of adventure for all at the Henry Vilas Zoo on August 11th! Children and significant others are invited and encouraged. The event will include a picnic dinner, cocktails, live music, animals, and more!
If you are interested in attending please contact your Michael Best Strategies contact and RSVP here.
Fall Pre-Primary Campaign Finance Roundup
This week marked the close of the last campaign finance period before Tuesday's primary. Please see the below breakdown of cash raised and cash on hand for each candidate in statewide races for the last two weeks.
Governor's Race
Dollars raised: $1,030,824.27

Cash on Hand: $752,017.53
Dollars raised: $458,932.69

Cash on Hand: $644,761.54 
Dollars raised: $2,792,551.36 

Cash on Hand: $153,161.43
Dollars raised: $16,707.23 

Cash on Hand: $75,251.23 
Lt. Governor's Race
Dollars raised: $85,985.00  

Cash on Hand: $24,910.06
Dollars raised: $26,179.00 

Cash on Hand: $89,189.19 
Dollars raised: $22,351.68

Cash on Hand: $90,982.07 
Dollars Raised: $22,480.82

Cash on Hand: $282,324.97 
Dollars Raised: $14,643.39 

Cash on Hand: $11,000.99 
Attorney General's Race
Dollars Raised: $168,033.41

Cash on Hand: $2,005,346.22
Dollars Raised: $94,328.02 

Cash on Hand: $74,966.63 
Dollars Raised: $10,555.04  

Cash on Hand: $36,068.31 
State Political Parties
Democratic Party of Wisconsin:
Dollars raised: $456,473.62

Cash on Hand: $3,467,178.02
Republican Party of Wisconsin:
Dollars raised: $219,559.58 

Cash on Hand: $118,350.76
Governor's Race
High-profile endorsements in the GOP gubernatorial primary
From former President Donald Trump's endorsement of Tim Michels, to former Vice President Mike Pence's endorsement of Rebecca Kleefisch, several high-profile endorsements have been made in Wisconsin's GOP primary for governor.
In addition to Trump, Michels has received the endorsement of former Governor Tommy Thompson while Kleefisch has received the endorsements of Senator Ted Cruz (R-Texas), former U.S. Ambassador to the U.N. Nikki Haley (R-South Carolina), and former Governor Scott Walker, as well as numerous state legislative leaders including Assembly Speaker Robin Vos and Senate Majority Leader Devin LeMahieu.
Backing up his endorsement with a campaign rally, Trump is in Wisconsin this Friday to stump for Michels at the Waukesha County Fairgrounds. Pence was already in the state earlier in the week campaigning with Kleefisch as part of her "Take Back Wisconsin Tour." Former Governor Walker said on UPFRONT that in addition to Pence, he expects to see Cruz, Haley, and Iowa Governor Kim Reynolds in Wisconsin to support Kleefisch prior to the August 9th primary election.
The winner of the GOP primary will face off against incumbent Democratic Governor Tony Evers on November 8th.
Evers releases new ad
Governor Tony Evers' campaign is out with a new ad this week. The ad is the 13th of Evers' re-election bid and is part of a previously announced $3.5 million buy that will run through the August 9th primary. "I've spent my career as a teacher, principal, and superintendent. Never in a million years did I think I'd be in politics," Evers says in the ad. "But when I saw the last administration cutting millions from our schools, demoralizing teachers, and dividing communities, I knew I had to step up." Evers concludes the spot saying "I'm not the flashiest guy around, but I'll always do what's right for Wisconsin."
State Solutions Inc. spots knock Evers on taxes, crime
A Washington, D.C.-based group called State Solutions Inc. has launched a $400,00 TV ad buy targeting incumbent Democratic Governor Tony Evers on taxes and crime. According to the group, the ads are running in the Green Bay and Milwaukee media markets. One ad features people recounting violent episodes that have occurred in Wisconsin since Evers was elected; "21 people shot outside of a Bucks game" says one man. "Over 60 people run over in Waukesha" says another woman. "Crime is out of control. What has Governor Evers done about it?" asks one of the individuals featured in the spot. The ad's narrator then says that Evers let violent criminals out of jail early, made it easier for cities to defund the police and wants to cut the prison population in half. The spot concludes with the narrator saying "Tell Governor Evers, put Wisconsin's safety first."
The second ad from State Solutions opens with a narrator who says families are losing $5,200 this year "thanks to Joe Biden's inflation" but "Tony Evers wants even more of your money." The narrator says Evers "tried to hike the gas tax by over 20%…pushed to double the energy tax that would double your heating and electric bills…and wanted to tax manufacturing jobs — making workers' paychecks even smaller." The narrator concludes the spot saying "Call Tony Evers. Tell him to stop making things harder for Wisconsin families."
Michels and Club for Growth Action both release new ads attacking Kleefisch on China
Less than one week out from the primary, GOP candidate Tim Michels and Club for Growth Action both have new ads on the air attacking former Lt. Governor Rebecca Kleefisch. While Michels' campaign did not provide details of the buy, the Club for Growth Action spot is part of a $1.3 million media buy in Wisconsin. The new ad is the second spot released by the group here in the badger state. Both ads feature lines on China which come from Kleefisch's 2014 trade mission to the country while she was lieutenant governor.
The Michels spot calls Kleefisch an "ultimate Madison insider" who "went to China to sell out Wisconsin workers." The ad also alleges that Kleefisch went to work for a special interest group backing amnesty for illegal immigrants. The ad concludes with the narrator saying, "Rebecca Kleefisch, the pro-China, pro-amnesty, Anti-Trump politician. She's the ultimate Madison insider."
The Club for Growth Action spot similarly points to a pattern of Kleefisch "being played, being used by China." The narrator accuses her of "spouting Chinese propaganda" after returning from a "junket" hosted by communist party officials. The narrator also says Kleefisch co-chaired an inclusivity conference that was "part of Tony Evers' woke agenda" and her "big-money donors back Biden's liberal agenda." The spot concludes with the narrator saying, "Rebecca Kleefisch, easy to co-opt, too weak to lead."
Lieutenant Governor's Race
Roth releases his first ad
With just under one week until the primary election, GOP candidate for Lt. Governor, Roger Roth, is up on TV with his first ad of the campaign. The ad is part of a $250,000 media buy from Roth's campaign which will broadcast on TV in the Green Bay and Milwaukee markets through the August 9th primary. In the ad, Roth says that he is running for lieutenant governor to "build Wisconsin back up and stop those trying to tear us down."
Rodriguez leads Peng Her in latest poll
This week in a poll conducted regarding the Wisconsin Democratic lieutenant governor primary by Change Research of 560 liberal voters between July 1st-7th found state Rep. Sara Rodriguez leading nonprofit executive Peng Her by 12 points. The poll showed 18% of liberal voters support Rodriguez, 6% of liberal voters support Her, and 76% of liberal voters are undecided. After respondents were shown biographies of each candidate, Rodriguez's support grew to 52%, Her's to 12%, and undecided voters dropped to 33%.
Change Research has a B- rating from FiveThirtyEight.
Post-Session Updates
Evers announces $2.5M in telehealth grants
Gov. Tony Evers, in coordination with the Wisconsin Department of Health Services (DHS), announced that $2,500,000 will be awarded to 27 providers to expand telehealth access to mental health and substance use treatment and recovery supports. The awards come from one-time funding under the American Rescue Plan Act (ARPA) and will set up "private behavioral health telehealth stations with the tools needed for virtual appointments" in various central locations, including community centers, food pantries, and libraries.
In a press release, Evers said that the grants "…will help ensure more folks can meet with a provider no matter where they live, closing gaps in services and building a behavioral health system that works for everyone at a time when treatment and recovery supports for mental health and substance use are more important than ever."
Between March and May, behavioral health providers were invited to partner with community-based organizations to apply for funding. DHS received 38 applications, with providers whose applications aligned the most with the funding's goals receiving grants. Of those applications, 27 were awarded funding in amounts ranging from $39,300 to $100,000. Awardees will receive funding this fall, with contracts lasting for one year. According to the press release, the telehealth access points should be operational by next summer.
Evers invests $8M in EMS providers
Gov. Tony Evers and the Wisconsin Department of Health Services (DHS) announced a $8,000,000 state investment in "supporting and stabilizing Wisconsin's emergency medical services (EMS)" using one-time funding from the American Rescue Plan Act (ARPA). The funding was distributed to communities that receive annual Funding Assistance Program (FAP) grants, which are available to all public ambulance service providers.
In a press release, Evers said that "EMS providers and our local partners have been doing more with less, having to make tough decisions and even reduce or cut services that keep our communities safe. These folks know their communities best, so we're getting them the resources with the flexibility to decide what they need to best serve their communities, keep Wisconsinites safe, and do their important work."
Each awardee received a supplemental grant of $24,390 in addition to their normal FAP grant. Awardees can use the funding to purchase new emergency service vehicles, diagnostic medical equipment, immobilization equipment, and patient transport equipment, as well as upgrade existing vehicles.
Evers spends $14.1M to address behavioral health needs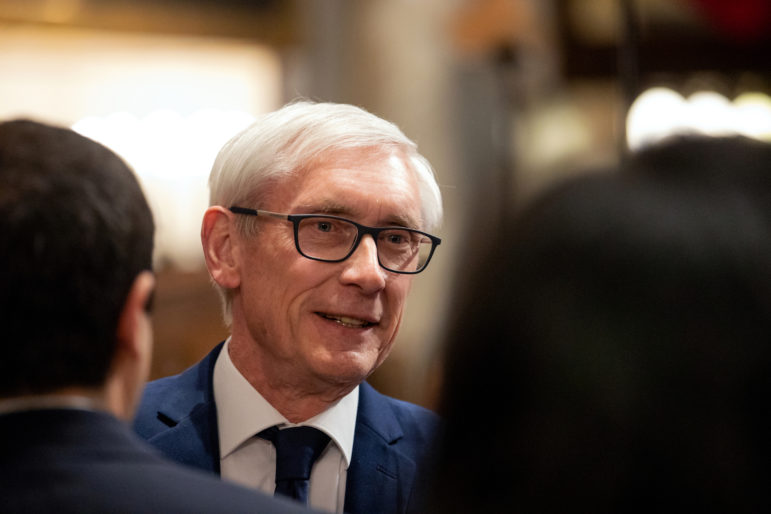 Gov. Tony Evers and the Wisconsin Department of Health Services (DHS) announced that they were directing $14,100,000 in funding under the American Rescue Plan Act (ARPA) to bolster youth mental health services and behavioral health providers throughout the state, framing it as an effort to "…address the shortage of mental health providers across Wisconsin."
Children's Wisconsin will receive $5,000,000 in funding. The funding will be split between supporting its pediatric Craig Yabuki Mental Health Walk-In Clinic while the remainder will be used to create a new pediatric psychology residency program in conjunction with the Medical College of Wisconsin. The existing clinic, which opened earlier this year, is the only walk-in behavioral health clinic in the state serving children and youth. The funding will help expand the clinics' workforce, hours, and services.
The University of Wisconsin-Whitewater will receive the other $9,100,000, of which $7,600,000 will be used to expand funding for the Qualified Treatment Trainee Grants Program. The program supports placements for professionals with a training license who need hours of observed practice to receive their full license. The remaining $1,500,000 will be used to expand educational pathways for students seeking careers in behavioral health. This includes a pilot program for UW-Whitewater at Rock County to help students with an associate degree in human services receive their bachelor's degree in social work.
Evers announces collaboration to build Lake Michigan electric vehicle circuit tour
Governor Tony Evers announced with three other Midwest governors, a collaboration to build "America's next iconic road trip route, specifically for electric vehicles." The Lake Michigan Electric Circuit tour will consist of a network of electric vehicle (EV) chargers spanning over 1,100 drivable miles of Lake Michigan's shoreline. The new chargers will be tied together with existing charging infrastructure networks at large entertainment attractions in population centers along the route, such as Green Bay, Milwaukee, Chicago, and Traverse City.
Governor Evers in his statement said that "Making our beautiful coastal communities not only more accessible to EVs but protecting them from lower emissions is a win-win for Wisconsin. We're proud to support this multi-state partnership as we work to implement our first-ever Clean Energy Plan and continue our efforts to bolster Wisconsin's tourism industry."
Senator Wimberger releases PFAS bill package
Wisconsin State Senator Eric Wimberger (R-Green Bay) released a package of bills this week intended to "[clean] up PFAS contamination and ensure farmers are protected from unfair government orders." The press release states that an Evers administration policy of spreading PFAS-contaminated biosolids on Wisconsin farmland could "destabilize affected farms, drive down land values, and cause significant financial harm to local people and governments." As a result, Senator Wimberger is proposing the package of bills "as a short term strategy of deflecting costs and stabilizing property devaluation, while putting forward a long-term strategy of cleanup and revenue generation."
The bill package includes:
LRB 6475- Stabilizes land value by facilitating Alternative Land Use. Establishes a program to facilitate the development of solar farms on certain agricultural land contaminated with PFAS
LRB 5628 – Protects farmers from the uncertainty of future government orders by providing exemptions for certain agricultural land contaminated with PFAS
LRB 6349 – Provides direct support for cleanup of PFAS-contaminated land by establishing remediation grants
LRB 6348 – Helps local governments deflect the cost of expensive, out-of-state landfill fees through direct grants
LRB 6347 – Plans for safe, long-term disposal by studying options for establishing an in-state landfill for PFAS biosolids
LRB 6404 – Looks to the future through cost and feasibility studies of additional PFAS disposal methods
Paid family leave gets GOP support in Wisconsin
Democratic lawmakers and Governor Tony Evers have long sought a requirement for Wisconsin employers to give their staff paid time off to be with their newborns. However, this was something that no one had thought possible with the Republican-controlled state legislature until this week when one of the largest pro-life organizations in the state, Wisconsin Right to Life, announced they were looking into legislation.
Wisconsin Right to Life's lobbyist, Gracie Skogman, said that she often hears from people who are concerned about moving forward with a pregnancy that their largest concern is child care and their jobs. Skogman went on to say that some form of paid time off legislation is "definitely something [Wisconsin Right to Life is] seriously looking at right now… We are in the drafting stages with a lot of legislation." Skogman also said that discussions are underway with GOP candidates for governor and "a large coalition of pro-life elected officials" which were not specified. Previous paid family leave policies proposed by Democratic lawmakers, most recently in February, did not get any Republican co-sponsorship or a public hearing.
Utilities to spend more than $2B on new Wisconsin transmission lines
On July 25th, the Midcontinent Independent System Operator (MISO) Board signed off on a $10.3 billion portfolio of 18 transmission projects for the Midwest. These lines are anticipated to support 53 gigawatts of renewable energy and provide $23-52 billion in benefits as utilities retire aging coal plants.
Three new transmission lines are expected to cross through Wisconsin as part of the MISO expansion and are anticipated to cost $2.2 billion. The expansion roughly doubles the previous 2011 MISO investment in Wisconsin, the Cardinal-Hickory Creek transmission line. The regional grid operator is planning to begin issuing requests for proposals this fall. All projects approved would be built in MISO's Midwest sub region, and the utilities building these transmission lines would still need the approval of state regulators. These new Wisconsin projects are slated to come online as soon as 2028, and are expected to help with the pledge to go carbon neutral by 2050. The pledge was made by Wisconsin's five major investor-owned utilities.
U.S. Senate Race
Evers, Baldwin endorse Barnes
Following Sarah Godlewski's announcement last Friday that she would be exiting the U.S. Senate race, Mandela Barnes became the last remaining frontrunner for the Democratic primary. Following Godlewski's exit, Senator Tammy Baldwin announced that she was endorsing Lt. Governor Barnes, noting that he has "shown an unprecedented ability to unite Wisconsinites." Barnes' former running mate, Governor Tony Evers, also announced that he would be endorsing Barnes, stating that Senator Baldwin needs a partner in Washington D.C.
Remaining in the Democratic primary race are Steven Olikara, Kou Lee, Peter Peckarsky, and Darrell Williams, all of whom are polling under 1%. In a statement, Olikara said that "Undecided voters and former supporters of other campaigns are breaking for our campaign. Anyone who has been on the campaign trail knows that we are surging."
Lasry launches $600K ad buy to target Ron Johnson
After dropping out of the Democratic primary race last week, Alex Lasry announced that he will utilize a $600,000 ad buy to run an attack ad against Sen. Ron Johnson in the Madison, Milwaukee, and Green Bay markets. In a statement, Lasry said that Democrats must now come together behind Mandela Barnes in order to beat Johnson, "which is why [he is] setting the tone by significantly investing in the future of this race and Wisconsin."
The ad features a voice over which slams Johnson's record on American industry, and additionally alleges that Johnson personally profited from a tax law which rewarded companies that outsource American jobs to China. Johnson has refuted this claim, which PolitiFact also said earlier this year had no provision which would have moved American jobs to China.
As others drop out, Barnes raises $1.1M in Wisconsin Senate primary
As the other top Democratic primary opponents dropped out of the race last week, Lt. Governor Mandela Barnes' campaign announced that it had raised $1.1 million and 21,000 donations in the past week. In a statement to The Hill, Barnes said that he is "so proud of the unprecedented support and unity Wisconsin has demonstrated in our fight to defeat Ron Johnson. We are building a grassroots movement of working people from every community who understand that we have much more in common with each other than we ever will with an out-of-touch, self-dealing millionaire politician like Ron Johnson."
Fundraising Opportunities
A list of all upcoming fundraiser opportunities can be found by clicking the button below. For any questions or more information, please do not hesitate to contact your Michael Best Strategies contact.