In this update:
Upcoming Events
Governor's Race
Post-Session Updates
U.S. Senate Race
Fundraising Opportunities
Upcoming Events
Coffee with the Candidate: A Virtual Meet & Greet with Minority Leader Greta Neubauer
When the 2023-2024 Wisconsin State Legislature is sworn into office next January there will be a minimum of 30 new lawmakers in the State Assembly and State Senate. That number could be even higher depending on the results of the November elections.
To introduce clients and colleagues to as many new lawmakers prior to the start of the 2023-2024 Legislative Session, we will be hosting a series of virtual meet & greets with incoming and likely new lawmakers.
Our fourth meet & greet will take place next Friday, September 9th at 8:30 AM with Assembly Minority Leader Greta Neubauer, who is running for re-election in Wisconsin's 66th Assembly District seat.
Leader Neubauer's webpage can be viewed here: http://www.votegreta.com/
Additional Upcoming Virtual Meet & Greets
September 16th, 8:30 AM- Coffee with the Candidate with Jesse James (Senate District 23): https://www.votejessejames.com/
September 23rd, 8:30 AM- Coffee with the Candidate with Amy Binsfield (Assembly District 27): https://www.facebook.com/BinsfeldForWIAssembly
September 30th, 8:30 AM- Coffee with the Candidate with Cory Tomczyk (Senate District 29): https://www.coryforsenatewi.com/
Governor's Race
Recent polls show tight race between Evers and Michels
Newly released polls from Trafalgar Group and OnMessage Inc. show the race between Tony Evers (D) and Tim Michels (R) for Governor of Wisconsin is within the margin of error. Trafalgar found 48% percent of likely voters surveyed backed incumbent Democratic Governor Tony Evers, while 47.5% percent supported Republican Tim Michels, with an overall margin of error +/- 2.9% .
The poll was conducted August 22-25 and surveyed 1,091 likely voters. Trafalgar uses a mix of several methods to deliver its polling questionnaire including live callers, integrated voice response, text messages, emails, and two other digital methods it will not publicly disclose. FiveThirtyEight rates Trafalgar an A-minus pollster.
According to the OnMessage Inc. poll, Evers and Michels are statistically even, with 48% of likely voters supporting Evers and 48% supporting Michels, with an overall margin of error +/- 4%. The survey was conducted through telephone interviews of 600 likely voters between August 22-24 and was stratified to reflect historical turnout. FiveThirtyEight rates OnMessage a B/C pollster.
Evers to join Biden on Labor Day event, but Barnes is noncommittal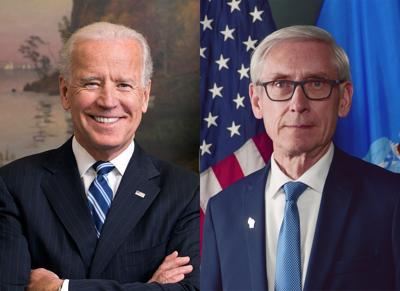 President Joe Biden will be visiting Milwaukee on Labor Day, the fourth trip he has taken to Wisconsin since he took office. He will be joined by Gov. Tony Evers, who said he would welcome a visit from Biden last week despite a report that his staff urged the president to avoid a visit.
On Wednesday, Evers said during a campaign stop that he would appear on stage with Biden if asked and would also support his campaign for re-election should he choose to run again. He said that he had a "good relationship" with the president and that "…we are absolutely working to make sure that regardless of who the president is, we're focused on issues important to Wisconsinites."
Lt. Governor Mandela Barnes was noncommittal on whether he would appear with Biden during his visit. Barnes' spokeswoman said that he will be attending Laborfest events in Milwaukee, Madison, and Racine on Monday and that his priority is "talking to Wisconsin voters and supporting the movement that gave his family a ticket to the middle class."
Post-Session Updates
Evers invests $90M in ARPA funding into K-12 education
Gov. Tony Evers announced that he is directing $90 million in federal funding under the American Rescue Plan Act (ARPA) towards K-12 education across the state, with $15 million going towards his "Get Kids Ahead" mental health initiative and the remaining $75 million going towards teacher recruitment and retainment.
The $75 million portion will be distributed to school districts and independent charter schools on a per pupil basis with about an additional $91.15 per student. According to Evers' press release, the funding can be used over several school years to "…retain and recruit talented educators and staff, address rising costs for supplies and services due to national inflation, defraying the cost of school bussing, and provide direct support for kids in the classroom." The awards range from about $1,000 to just over $6.5 million.
The additional $15 million in funding for the Get Kids Ahead initiative doubles Evers' initial investment, which he announced during his State of the State Address earlier this year. Every public school district in Wisconsin is eligible for funding, which can be used to provide direct mental healthcare, hire and support mental health navigators, and provide mental health first aid and trauma-based care training. Every district that opts into the initiative receives at least $20,000, with the remaining funding distributed on a per pupil basis.
Republican gubernatorial nominee Tim Michels criticized the plan as political, saying "The fact that self-proclaimed 'education governor' Evers needs to make news on education with 70 days until Election Day shows that his anti-parents, pro-special interest education agenda isn't resonating with Wisconsin voters. Evers wants his big checks to make people forget his big failures, but his disastrous record speaks for itself."
Legislative study committee holds meeting on offender employment opportunities
The Legislative Council Study Committee on Increasing Offender Employment Opportunities met for the first time this week, hearing presentations from a number of stakeholders. The committee, which is chaired by State Sen. Mary Felzkowski (R-Irma), will meet until December.
The Wisconsin Department of Corrections (DOC) presented on the current programs that are offered at its centers and county jails, as well as other educational and training opportunities through the Wisconsin Jobs Center and primary treatment programs. The committee also heard from the Wisconsin Technical College System (WTCS) and the Wisconsin Department of Workforce Development (DWD).
The group's aim is to craft proposals that its legislator members can introduce in the coming legislative session. Some of the measures that have been suggested include reforming the state's expungement laws and increasing educational opportunities and apprenticeships to those who are currently incarcerated. However, some of the proposals are similar to those that have been introduced in previous sessions, particularly in regards to expungement.
WEC staff proposes creation of Office of Inspector General
Staffers for the Wisconsin Elections Commission (WEC) are seeking an additional $1,300,000 to the agency's base budget for the 2023-25 biennium in order to fund the creation of a new Office of Inspector General that would examine claims of "unlawful or inefficient operations" in state elections.
The office would have a staff of ten full-time equivalent positions and would seek to "promote best practices designed to increase accuracy of and confidence in election results" while helping to handle public record requests. The staffers argued that the office is necessary to help WEC "…adapt to meet the growing needs of our citizenry" so that it could become "…a more effective agency that will better address citizen concerns and requests and thus increase public confidence in our elections."
On Wednesday evening, the WEC unanimously approved the motion to include the office in its biennial budget request. The approved motion calls for the inspector general to be hired and serve at the pleasure of the WEC administrator. The position would be kept as unclassified, meaning that the inspector general could be terminated without cause.
Injunction guarantees disabled Wisconsin voters help with delivering absentee ballots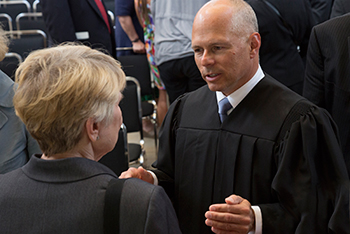 Judge James Peterson, the Chief Judge of the U.S. District Court for the Western District of Wisconsin, issued an injunction that guarantees disabled voters in Wisconsin the option to receive help with mailing or delivering an absentee ballot from a third party.
Four disabled voters filed a federal lawsuit after the Wisconsin Supreme Court affirmed a Waukesha County Circuit Court's ruling that drop boxes were disallowed under state law. Judge Michael Bohren, who heard the case at the circuit level, also ruled that voters who placed their absentee ballots in the mail were required to do it themselves. The Wisconsin Supreme Court did not address that portion of the ruling.
Peterson ruled that the plaintiffs cannot comply with a state law which requires them to return their absentee ballots either by mail or in-person delivery to their municipal clerk. In his order, he wrote that "voters shouldn't have to choose between exercising their federal rights and complying with state law." He noted that, under the Voting Rights Act, "disabled voters who need assistance in returning an absentee ballot are entitled to ask a person of their choosing for that assistance."
Peterson granted the plaintiffs an injunction, finding that the Voting Rights Act preempts the prohibition of assistance under Wisconsin statute. The Wisconsin Elections Commission (WEC) now has until September 9th to provide written instructions to all municipal clerks that reflect the order. The WEC announced on Wednesday that they will meet on September 6th to consider compliant guidance.
U.S. Senate Race
Johnson delivers speech in Milwaukee, defends vote on burn pits and plan for Medicare/Social Security
This week, U.S. Senator Ron Johnson spoke at the American Legion's National Convention in Milwaukee where he defended his votes on a bill dealing with veterans' exposure to toxic burn pits, as well as his plan to transfer Medicare and Social Security spending from mandatory to discretionary spending.
Johnson first discussed the toxic burn pit legislation, also known at the PACT Act. "It was never in doubt that Congress was going to pass whatever appropriation was necessary to take care of our veterans that suffered harm from burn pits," Johnson said. The two-term senator initially supported the legislation, but after the House passed an amendment that sent the bill back to the Senate, Johnson voted against the measure. Johnson said he was concerned the PACT act moved $400 million in spending from discretionary to mandatory accounts. He also had concerns the U.S. Dept. of Veterans Affairs healthcare system did not have the capacity to deal with the influx of veterans affected by burn pit exposure and wanted veterans to be able to obtain their healthcare from the private sector.
Johnson ultimately supported the PACT act in an 86-11 final vote. Referring to his plan to shift Social Security and Medicare from mandatory to discretionary spending, Johnson said "Let me say unequivocally: I have never said I wanted to put Social Security, Medicare, veteran's benefits on the chopping block or cut them," he said. "I want to save these programs. I want to stop mortgaging our children's future."
Following the speech, Johnson spoke with WisPolitics.com and other reporters where he was critical of his general election opponent Mandela Barnes for accumulating more than 10 times as many hours of State Patrol security as his predecessor, former Lt. Gov. Rebecca Kleefisch. "I would say that's pretty much an abuse of state resources and taxpayer's hard-earned dollars," Johnson said. He also said that Barnes has been misleading voters with "all these nice looking commercials out there making him look like a moderate. He's no moderate. He's a radical leftist."
In an email to WisPolitics.com, Barnes campaign spokeswoman Maddy McDaniel responded to Johnson's criticism. "Lt. Governor Barnes has gone above and beyond to ensure accountability and transparency with taxpayer dollars — unlike Ron Johnson, who is charging the taxpayers for trips between his ritzy Florida vacation house and DC while he tries to upend Social Security and votes against lowering costs for prescription drugs," she said.
Recent poll shows Barnes with slight lead over Johnson
A newly released poll from Trafalgar Group shows Lt. Gov. Mandela Barnes (D) slightly leading U.S. Senator Ron Johnson (R), but the lead is within the poll's margin of error. Trafalgar found 49.4% percent of likely voters surveyed backed the Democratic challenger Mandela Barnes, while 47.1% percent supported the Republican incumbent Ron Johnson, with an overall margin of error +/- 2.9% .
The poll was conducted August 22-25 and surveyed 1,091 likely voters. Trafalgar uses a mix of several methods to deliver its polling questionnaire including live callers, integrated voice response, text messages, emails, and two other digital methods it will not publicly disclose. FiveThirtyEight rates Trafalgar an A-minus pollster.
The poll from Trafalgar tracks with other recently released polls from MU Law and FOX News that have consistently shown Barnes maintaining a slight edge over Johnson.
Johnson releases second biographical ad
Senator Ron Johnson released a new 60-second ad to run on TV in his bid for re-election. The ad features a collection of photos of Ron Johnson from his childhood and adult life portraying is family and hobbies. Throughout the ad, a young woman discusses the health challenges faced by Johnson's daughter after being born with a serious heart defect.
The ad reminds viewers that Johnson "fought to secure tax cuts for 95% of American Main Street businesses," while also mentioning his right-to-try law and his work on the Joseph Project.
Later in the ad, the speaker reveals that she is Ron Johnson's daughter, Carey. Having family members narrate his ads is not a new trend for Johnson; just last month the senator released an ad narrated by his brother-in-law.
Barnes releases two new ads on outsourcing and immigration
Lt. Governor Mandela Barnes has released two new advertisements as part of his campaign for U.S. Senate. A press release from his campaign says that both ads are part of a multi-million dollar campaign and will be viewable on broadcast, cable, and digital platforms across Wisconsin.
The first ad, titled "Hard Work," features Barnes promising to "bring manufacturing back home so we can make things in Wisconsin again." He also says that "you deserve a senator who protects your jobs, not one who sends them overseas," echoing his past claims that incumbent U.S. Sen. Ron Johnson (R-WI) has supported the outsourcing of American jobs during his tenure in the Senate.
The second ad, titled "Truth," is in response to claims from conservative and Republican groups that Barnes supports the "defund the police" movement and the abolition of U.S. Immigration and Customs Enforcement (ICE). In the ad, Barnes directly addresses and refutes these claims, saying that he will make sure that "our police have the resources and training they need to keep our communities safe and that our communities have the resources to stop crime before it happens." He also says that he will "bring back manufacturing" and "pass a middle class tax cut."
One Nation releases ad encouraging Johnson to fight for inflation relief
One Nation, a conservative 501(c)4 non-profit organization, has released a new advertisement that urges U.S. Sen. Ron Johnson (R-WI) to "keep fighting for relief from inflation for Wisconsin seniors by stopping waste and getting spending under control." The ad is the sixth in the organization's series and will run across Wisconsin, although One Nation did not specify on what platforms in their press release.
The ad features a couple from Wauwatosa, who say that inflation has made it difficult for retirees, particularly those with fixed incomes. They similarly express concerns about "the debt we're leaving our grandchildren." They go on to say that Johnson "…understands we must get spending under control" and that he is "…working to stop the waste in Washington." They close the ad by telling the viewer to "tell Senator Johnson to keep fighting for Wisconsin seniors and the next generation."
Wisconsin Truth PAC releases ad about Barnes' failure to pay property taxes on time
Wisconsin Truth PAC, a conservative advocacy group, has released a new television advertisement that criticizes Lt. Governor Mandela Barnes over his past failure to pay his property taxes on time. The ad is part of a previously announced $1.2 million buy for the month of August, bringing the group's annual advertisement spending to $11.9 million.
In 2019, the Milwaukee Journal Sentinel reported that Barnes owed the City of Milwaukee at least $2,225 in property taxes, interest, and penalties on his condominium. Barnes claimed that he was paying the taxes in installments, but a spokeswoman from the city treasurer's office said that his taxes were considered delinquent because the failed to make the installment agreement's first payment by its deadline. In June 2019, Barnes said he had paid off the taxes.
The advertisement shows Barnes walking away from a reporter after he was asked about his unpaid property taxes, with a news anchor saying that Barnes "stormed" out of the interview. A narrator also claims that Barnes did not pay a state or federal income tax — Barnes did not have a paid job while running for Lt. Governor in 2018 and thus did not file. The narrator then says that Barnes supports "Biden's tax increase on working families and an army of new IRS agents to audit middle-class families."